On the Go: MBL Nikon Fellow Studies Why Nuclei Move – and How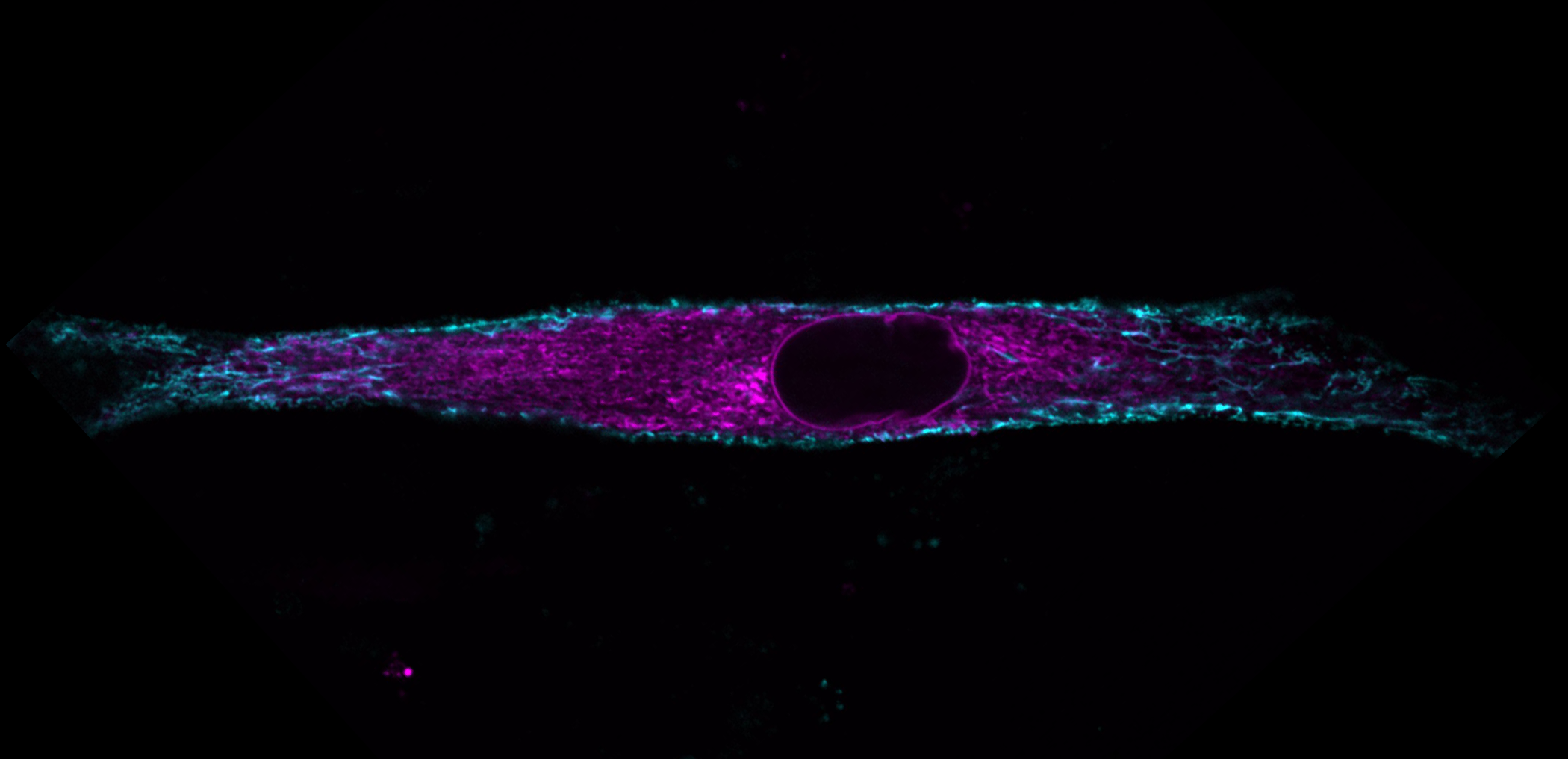 Myoblasts (muscle cells) from mice offer a window into the function of nuclear movement. Credit: Raquel Pereira (@Pereira_ARR)
In textbooks, diagrams of the inside of the cell don't show the full picture. The cell's interior is a dynamic place, with millions of molecules and organelles jostling around. And the placement of the cell's nucleus at any given time can hold information about what the cell is going through, because it is key for many cellular functions. In fact, none of us would be alive if not for nuclear movement during fertilization of an egg cell.
Edgar Gomes of Universidade de Lisboa wants to know how the position of the nucleus contributes to the functioning of the cell and tissue. As a third time Whitman Fellow at MBL and first time Nikon Fellow, Gomes is no stranger to the campus. Over the last three years, he has built a robust research program using skeletal muscle cells to investigate nuclear positioning and movement within the cell.
Gomes's student Inês Faleiro (left) and Edgar Gomes (right) received microscopes from Nikon for their summer research. Credit: Nora Bradford
Unlike most cells in the body, skeletal muscle cells tend to contain multiple nuclei. They fuse with other muscle precursor cells and continue to rack up nuclei. This offers the lab an interesting opportunity to look at how and why nuclei move in the cell.
Multinucleated skeletal muscle cells form connections with multiple muscle precursor cells. Nuclei are in green and cell is in red. Credit: Helena Pinheiro (@helenaapinheiro)
Gomes and other researchers have noted that at the neuromuscular junction – the synaptic connection between a nerve cell and a muscle fiber - nuclei will gather near the synapse and express proteins that are important for that connection. This is one of the few examples for which the role of nuclei positioning has been explained, but Gomes and his team are hoping to find others through their work at MBL and beyond.
"Being here is allowing us to address some of these questions that we don't have the resources to ask back home," says Gomes. This summer, he and his team are using an imaging system called Total internal reflection fluorescence (TIRF) microscopy, which eliminates background fluorescence to create clearer images. Being at MBL also means collaborating with fellow researchers. "We've done a lot of side projects just from bumping into people in the corridors. That's MBL for you," says Gomes.