Semester in Environmental Science (SES)
Course date:
Sep 04, 2022 - Dec 20, 2022
Application due date: TBD
Application deadline extended on a rolling basis until filled.
The Semester in Environmental Science is a 15-week fall semester at the Ecosystems Center of the Marine Biological Laboratory in Woods Hole, Massachusetts. The curriculum provides an intensive field and laboratory-based introduction to ecosystem science and the biogeochemistry of coastal forests, freshwater ponds and estuaries.
More than 50 colleges participating in the MBL consortium in Environmental Science have approved SES for credit. Undergraduates from the University of Chicago can remain enrolled full-time and receive University of Chicago credit through our SES UChicago partnership program. Students from non-affiliated colleges and universities are encouraged to attend SES and may be able to receive credit from their own institutions.
Scientists at the MBL Ecosystems Center and at the MBL Josephine Bay Paul Center serve as faculty for the program. In addition to teaching fundamentals of ecosystems science, they discuss their current research, which touches on important issues of global and environmental change.
The curriculum leads students to develop research questions of their own. Equipped with new knowledge and techniques learned in the first weeks of the semester, they pursue independent research during the last six weeks of the program. SES students report their findings at a final symposium that is open to the entire Woods Hole scientific community, a world center for marine and environmental sciences.
---
Faculty Testimonials Highlight Uniqueness of SES Program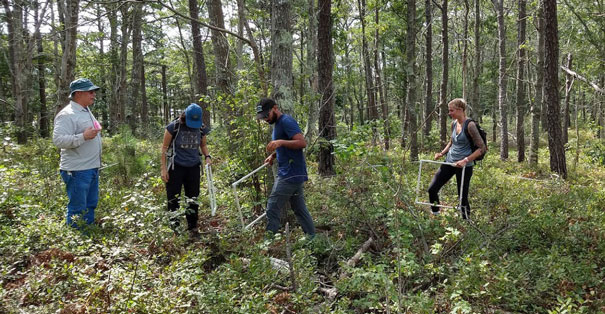 Check Out the Videos Here
The Marine Biological Laboratory's Semester in Environmental Science is proud to announce the 24th annual Student Independent Research Symposium. Students who have participated in the semester-long study abroad course present the culmination of their independent research projects in 15-minute talks. This event was recorded and is available to view below in two sessions:
Morning Session
Afternoon Session
Reflections from an SES Alum:
SES got me a job opportunity in my desired field directly out of college. The agricultural research I conducted as part of the program taught me techniques for sampling, sharing data, and integrating my work with an independent agricultural research organization – The Hudson Carbon Project. This relationship evolved into a unique and fulfilling full time job.

I look back to past SES labs and data analysis for direct insight into the experimental design I work with today. SES enabled me to develop relevant scientific skills, form incredible friendships, and explore an oceanic landscape. There are incredible opportunities awaiting students who challenge themselves in the SES program.
Mike Howard, SES Class of 2018, Clarkson University 2019
---
Interested in speaking with a former SES Student?
Our SES alumni are the best ambassadors!  Get in touch with us to connect with an SES alumnus to learn about their experience.
Email us at SES@MBL.EDU