Faculty Testimonials Highlight Uniqueness of SES Program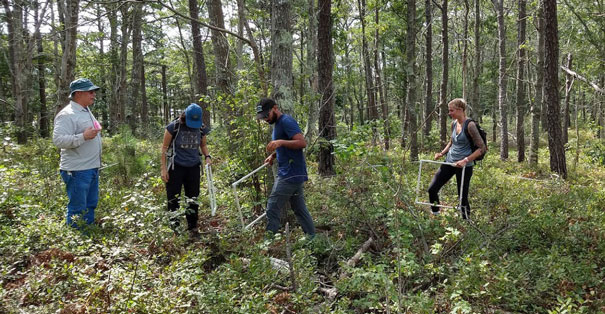 2019 SES students collecting data at Crane Wildlife Management Area. Credit Lauren Johnson
The MBL's Semester in Environmental Science (SES) is no ordinary study abroad program. The 15-week program provides an intensive field and laboratory-based introduction to ecosystems science and the biogeochemistry of coastal forests, freshwater ponds, and estuaries.
Scientists at the MBL Ecosystems Center and at the MBL Josephine Bay Paul Center serve as faculty for the program. In addition to teaching fundamentals of ecosystems science, they discuss their current research, which touches on important issues of global and environmental change.
In these video testimonials, the SES Faculty talk about their science, the MBL, and what makes SES such a unique program.
"One of the highlights of the Semester in Environmental Science Program at the MBL is that it provides undergraduate students an extraordinary opportunity to work side by side with our dedicated faculty learning about fundamental concepts of ecosystem science," said SES Director Mirta Teichberg. Watch her testimonial below.
MBL SES Faculty Testimonials: Mirta Teichberg
"Our faculty share their expertise on topics such as photosynthesis of plants and algae in terrestrial and aquatic ecosystems, food web dynamics, the cycling of nutrients from land to sea, the global carbon cycle and its relationship to climate change, and the role of micro-organisms in modifying their environment," said Teichberg. "They do it using a hands-on field and laboratory approach - the best way for students to learn about and actually do science."
The SES curriculum leads students to develop research questions of their own. Equipped with new knowledge and techniques learned in the first weeks of the semester, they pursue independent research during the last six weeks of the program. SES students report their findings at a final symposium that is open to the entire Woods Hole scientific community, a world center for marine and environmental sciences.
Apply to SES Today