Inaugural "Building Innovation through Diversity" Cohort Comes to the MBL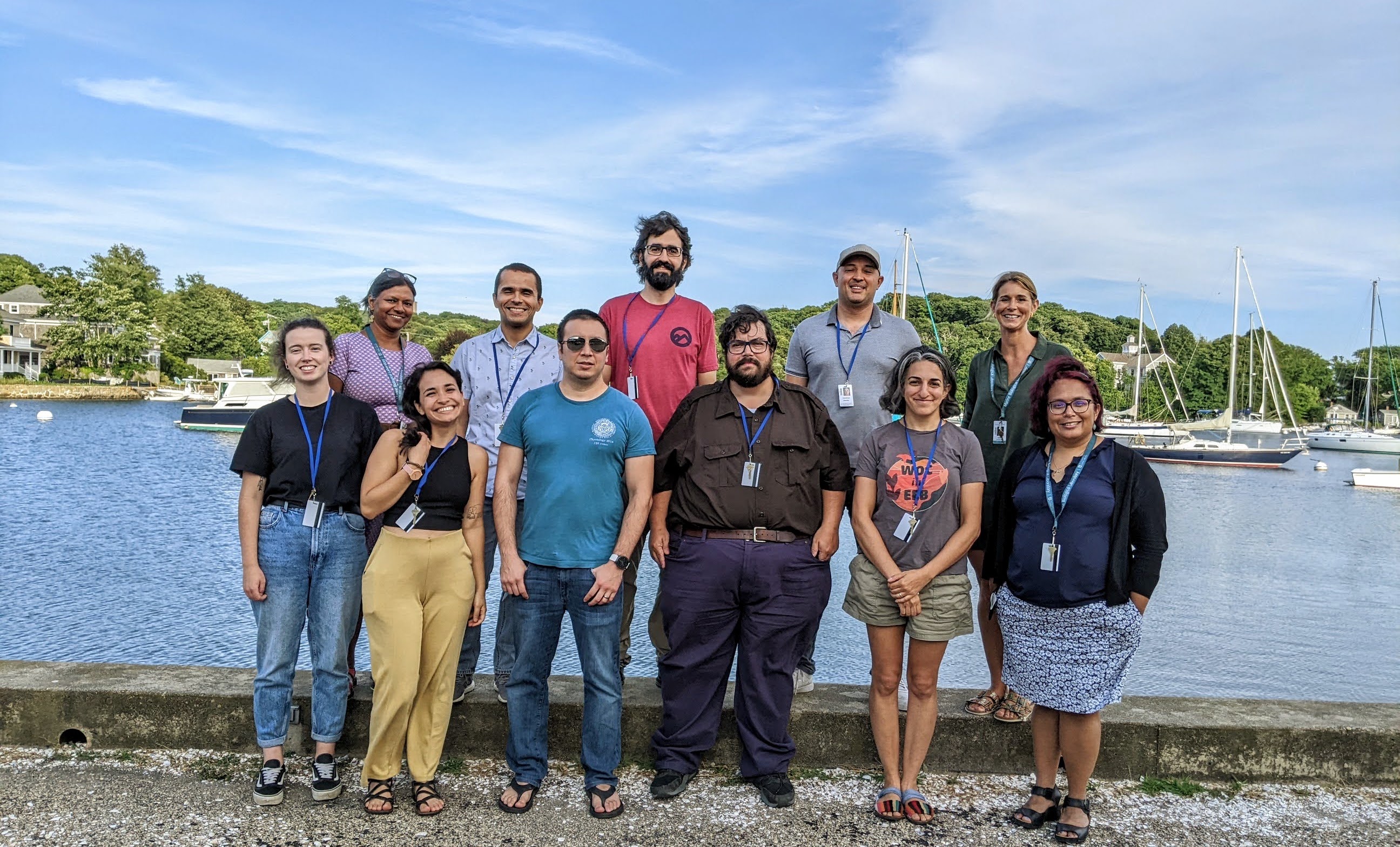 The inaugural 2022 Building Innovation Through Diversity (BID) cohort and their hosts.
Last month eight scientists participated in the MBL's inaugural "Building Innovation through Diversity" (BID) program. The five-day, fully-funded program targeted early-career scientists from groups traditionally underrepresented in STEM, as well as faculty at Minority Serving Institutions.
The goal? To extend the MBL experience to new communities of scientists using engagement with our Advanced Research Training Courses (ARTC) as a launchpad.
The cohort's jam-packed schedule included sit-ins with four ARTC courses—Biology of the Parasitism (BOP), Microbial Diversity (MD), Molecular Mycology (MOMY), and Strategies and Techniques for Analyzing Microbial Population Structures (STAMPS)—tours of the Marine Resources Center, Central Microscopy/Imaging facilities, and the Grass and Whitman labs. BID members also gave five-minute flash talks about their research and attended a Friday Evening Lecture. 
While most of the cohort was new to Woods Hole, a few had been to the MBL before during their careers, either for conferences or to take part in the ARTCs. 
"This is a big step in not just showing the MBL as a beacon you can always return to throughout your career, but also one that is committed to and continually in the pursuit of Diversity, Equity, Inclusion, and belonging for the scientific workforce," says Sarah Dundilis, Grants Administrator, MBL Education.
"The BID scholars, whether they were new to the MBL, re-engaging at a new career stage, postdoctoral fellows, or early career faculty, really opened our eyes to the bridge we can build between the education programs and research department opportunities," says Dundilis.
The inaugural BID program was led by Indu Sharma, E.E. Just Whitman Fellow and Veronica Acosta, Director of Research Experience for Undergrads (REU). Both are alumni of multiple ARTCs.
The inaugural class of the BID program included : 
Daniel Cortes, Postdoctoral fellow, University of North Carolina, Chapel Hill
Shawn Dash, Associate Professor, Hampton University
Jessica Fletcher, Postdoctoral Fellow, University of Colorado, Denver
Sharifan Hamidreza, Assistant Professor, Albany State University
Adrian Jinich, Postdoctoral Fellow, Weill Cornell Medicine
Lily Khadempour, Assistant Professor, Rutgers University
Thiago Santos, Postdoctoral Fellow, Harvard University
Naima Starkloff, Postdoctoral Fellow, Emory University
Learn more about the BID Program