MBL Wraps Up Successful High School Program Season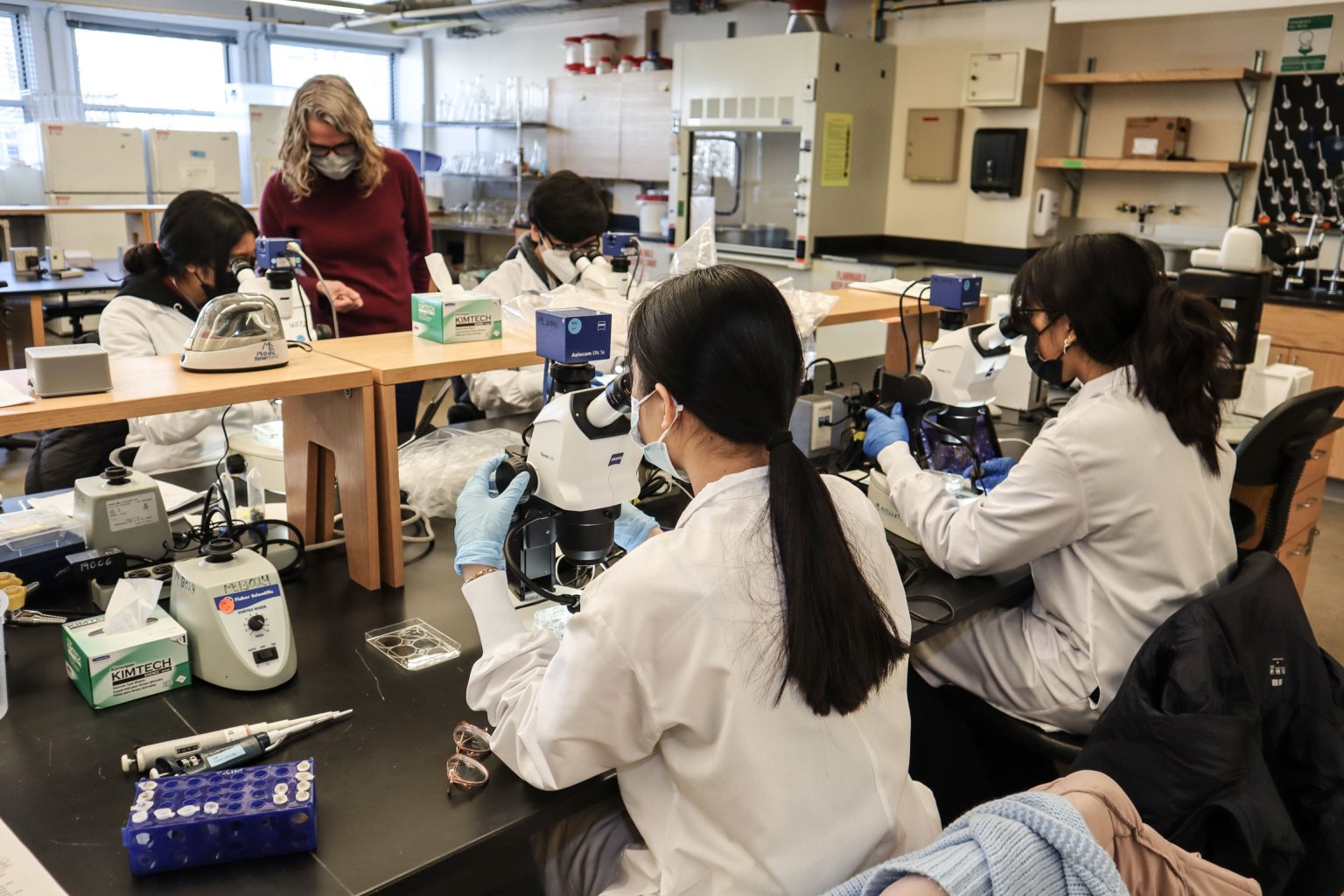 Students from Lynn Classical High School participate in the MBL's High School Science Discovery Program in February 2022. Credit: Emily Greenhalgh
From November 2021 to April 2022, 135 high school students from 11 public and private schools around the country came to Woods Hole to participate in the High School Science Discovery Courses at the Marine Biological Laboratory (MBL).
The 2021-2022 season was the largest and most successful since the program launched in 2018 with just 12 students. The students came from as far away as Texas to participate in the MBL programs.
"It has been so satisfying to welcome high school students to the MBL and share the excitement of doing research," said Linda Hyman, Burroughs Wellcome Director of Education. "These aren't 'cookie cutter' courses and the diversity of students that are exposed to this intensive, hands-on laboratory experience will ultimately lead to a new generation of scientists.  We can't wait to welcome these students back to the MBL back as undergraduates graduate students, postdocs and beyond!"
Modeled after the MBL's popular Advanced Research Training Courses, the high school course lets students experience hands-on science in a way that isn't possible for most people their age.
Five courses are available as part of the High School Science Discovery Program:
Anatomy & Development of Marine Vertebrates & Invertebrates, led by MBL Veterinarian Lisa Abbo, focuses on the anatomy, development, and physiology of various animals, with an emphasis on local marine species.
Coral Reefs in a Changing World, led by MBL Associate Scientist Loretta Roberson, explores corals and coral reef ecosystems—from the cell to reef using the latest tools being developed at the MBL for exploring fundamental biological processes.
Exploring Microbiomes of Marine Organisms with DNA sequencing, led by MBL Senior Scientists David Mark Welch and Hilary Morrison, investigates the host-associated microbiomes of marine model animals in the MBL's Marine Resources Center.
CRISPR/Cas9 Genome Editing: A Hands-on Experience, led by MBL Director Nipam Patel, teaches students the fundamentals of CRISPR/Cas9 technology and allows them to apply the techniques in the lab to understand how it is used by research scientists to explore questions in basic biology, and the techniques implications for improving human health.
Adaptation and Evolution in Response to Environmental Challenges, taught by MBL Associate Scientist Kristin Gribble, explores the fundamentals of evolutionary biology, including concepts of adaptation, fitness, genetic heritability, and epigenetic transgenerational inheritance through the use of aquatic invertebrates and plankton.
"These courses are taught by some of the best scientists in the field. It's an amazing opportunity," said Scott Bennett, manager of secondary education at the MBL.
Generous support from Saul Pannell, Vice Chair of the MBL Board of Trustees, made it possible for public school students and teachers to attend this program.
Are you a high school teacher or administrator interested in bringing your science-interested students to the MBL? Learn more about our High School Science Discovery Program and email Jean Enright, jeanright@mbl.edu for more information.
Learn more about the High School Science Discovery Program