Nicotine Addiction Study Leads to Fundamental Insight on Neural Plasticity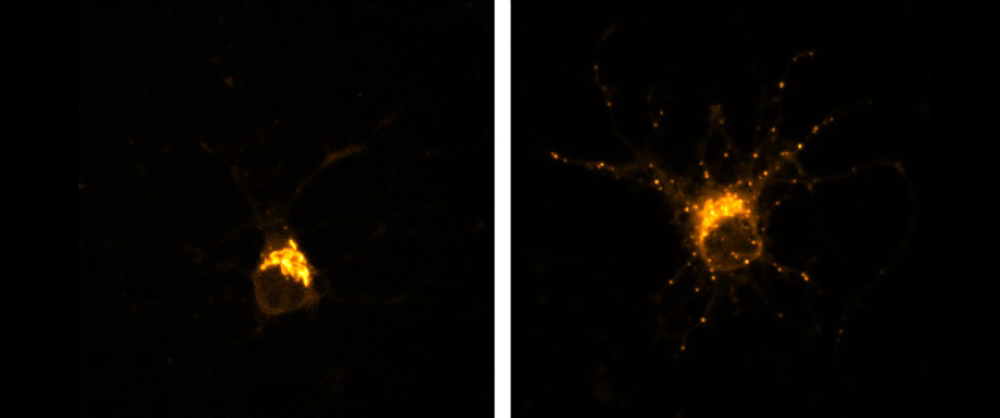 The neural pathways in our brains aren't set in stone: They physically change when we store knowledge or memories, or with addiction or neural disease. A recent study helps illuminate the changes that nerve cells undergo as neural circuits form and are reshaped by experience.
The study was conducted partly at the Marine Biological Laboratory (MBL), where co-authors William (Bill) Green, professor of Neurobiology at University of Chicago, interacted with Jennifer Lippincott-Schwartz, senior group leader at HHMI's Janelia Research Campus. Lead author Okunola Jeyifous, research assistant professor at UChicago, also conducted some of the research at MBL.
The team discovered that excitation of neurons leads to remarkable changes in the secretory pathway where certain proteins, called glycoproteins, are processed for export to the neuron's surface. In particular, an important organelle in the secretory pathway, the Golgi apparatus, dissolves from being a unified structure into scattered elements, called Golgi satellites.
The Golgi satellites arise in the neuron's dendrites – the long, thin nerve processes that receive signals from adjacent neurons. The satellites function as local micro-secretory systems, processing glycoproteins at a good distance from the neuron's cell body, where the Golgi apparatus resides.
The study grew out of longstanding work in Green's lab on nicotine addiction. Using cultured neurons from the rat brain, they found that nicotine exposure triggered Golgi dispersal within the cell body and dendrites, and subsequently showed that exposure to other excitatory stimuli did as well.
"This finding helps us understand how addiction hijacks the secretory system and then changes the circuitry in the brain," Green says. "But it also tells as something really important about the basic workings of the brain -- how neural circuits form."
Green spends most summers conducting research in the MBL Whitman Center. Lippincott-Schwartz, an expert in the Golgi apparatus as well as microscopy, is a faculty member and former co-director of the MBL Physiology course.
The team acknowledges microscopy support for this study from Louis Kerr, director of Imaging Services and staff scientist at MBL; Abhishek Kumar, CZI imaging scientist at MBL; and Hari Shroff, MBL fellow from the National Institute of Biomedical Imaging and Bioengineering.
Citation:
Anitha P. Govind et al (2021) Activity-dependent Golgi satellite formation in dendrites reshapes the neuronal surface glycoproteome. eLife, DOI: 10.7554/eLife.68910.sa2
—###—
The Marine Biological Laboratory (MBL) is dedicated to scientific discovery – exploring fundamental biology, understanding marine biodiversity and the environment, and informing the human condition through research and education. Founded in Woods Hole, Massachusetts in 1888, the MBL is a private, nonprofit institution and an affiliate of the University of Chicago.