USPS Stamps Celebrate Marine Science with Woods Hole Dedication Ceremony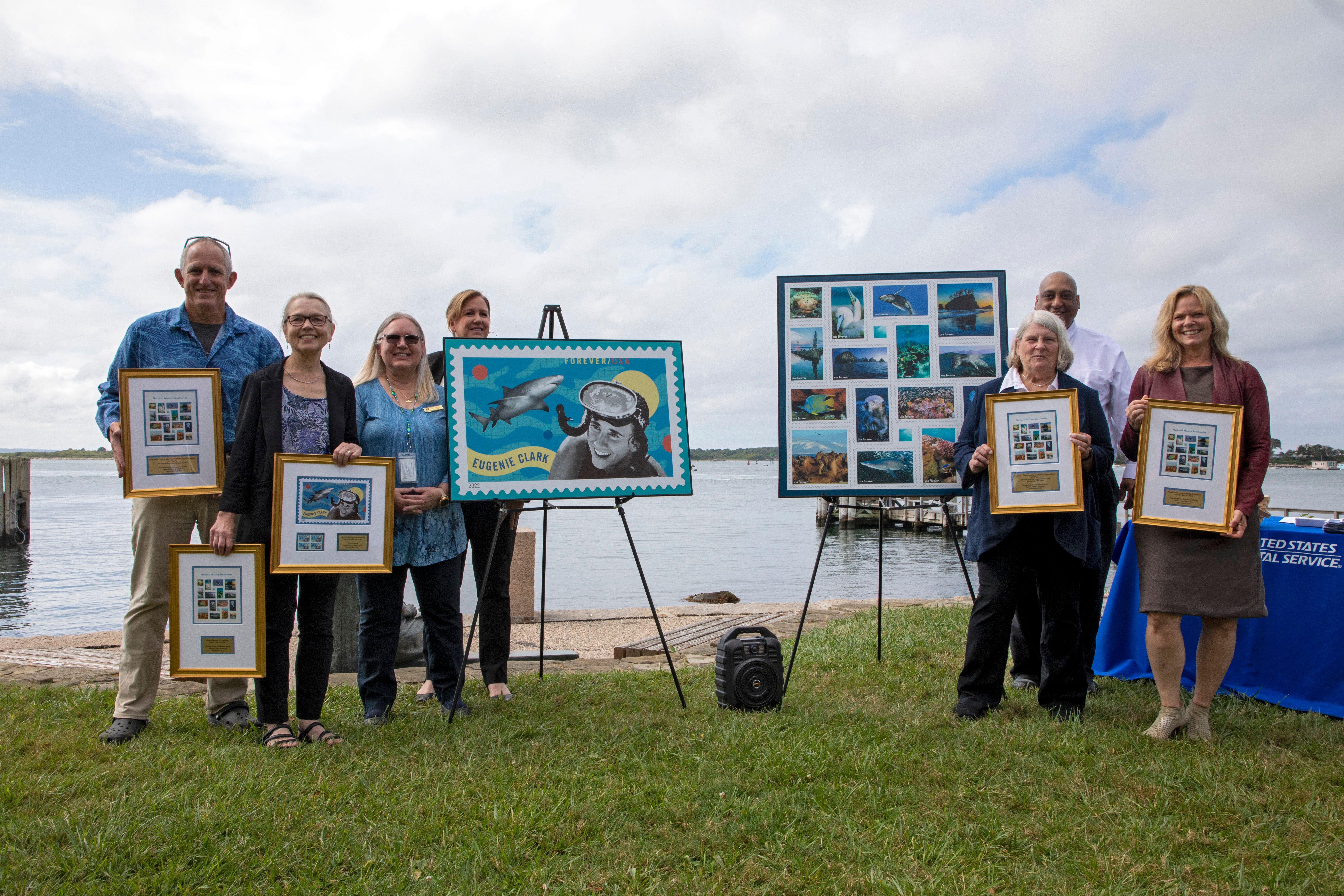 Woods Hole scientific leadership join USPS officials to commemorate ocean-themed stamps. (Full Caption at Bottom of Page) Credit: © Woods Hole Oceanographic Institution
The MBL joined the U.S. Postal Service and our scientific neighbors the Woods Hole Oceanographic Institution (WHOI) and the National Oceanographic and Atmospheric Administration (NOAA) in a special ceremony in recognition of two new sets of Forever stamps honoring marine science. 
Leadership from each science institution joined West Falmouth Postmaster Theresa Gardner in Waterfront Park on Thursday. The two sets of stamps—the National Marine Sanctuaries stamps and the Eugenie Clark stamp—were dedicated nationally earlier this year.
Dr. Eugenie Clark nicknamed "The Shark Lady" was a world authority on sharks and fish. In addition to being regarded as an authority in marine biology, Clark worked tirelessly to improve sharks' reputation in the public eye and promote marine conservation. She was also an MBL alumna. During her years of graduate study, Clark carried out research at several marine stations and  spent the summer of 1948 in Woods Hole as a student in the Marine Biological Laboratory Embryology course.
Anne Sylvester, MBL Director of Research, holds a framed print of the Eugenie Clark forever stamp, presented to her by the USPS. Credit: © Woods Hole Oceanographic Institution
Sylvester stands with Theresa Gardner, West Falmouth Postmaster, and holds a print of the National Marine Sanctuary forever stamps. Credit: © Woods Hole Oceanographic Institution
During its long history, the MBL has been a source of inspiration for generations of women in science—from Cornelia Clapp, who helped found the institution, and Rachel Carson, the mother of the modern environmental movement, to the thousands of female students who have studied in Woods Hole during the last 130+ years.
"The MBL is proud to count Eugenie Clark as one of our alumni and thanks the U.S. Postal Service for recognizing her contributions to science and the trails she blazed for women in science," said Sylvester. 
Since the MBL's founding in 1888 the rich marine life—from microbes and plankton to squid and coral—found in and around the waters of Woods Hole and Cape Cod have drawn scientists from around the world to study here. Our local marine sanctuary, Stellwagen Bank, has played an important role for MBL scientists for decades.
Exploring life in the oceans will have profound effects on our understanding of biology and its applications to our own health and wellbeing and the National Marine Sanctuary System plays an important role in ensuring that our ocean ecosystems are protected.
"I'd like to congratulate NOAA on the 50th anniversary of NOAA's National Marine Sanctuary System and thank the US Postal Service for recognizing the importance of our marine ecosystems, and the rich diversity of organisms that live within them, by launching National Marine Sanctuaries stamps," said Sylvester.
---
Header Caption: Woods Hole scientific leadership join USPS officials to commemorate ocean-themed stamps. Picture l to r: Jon Hare, Science and Research Director, NOAA Northeast Fisheries Science Center; Anne Sylvester, Director of Research, MBL; Theresa Gardner, West Falmouth Postmaster; USPS staff; Anne Smrcina, Education and Outreach Coordinator, Stellwagen Bank National Marine Sanctuary; Carol-Anne Clayson, Associate Director for Research Strategies, WHOI. Credit: © Woods Hole Oceanographic Institution