Whaling Museum Apprenticeship Students Get Crash Course on Corals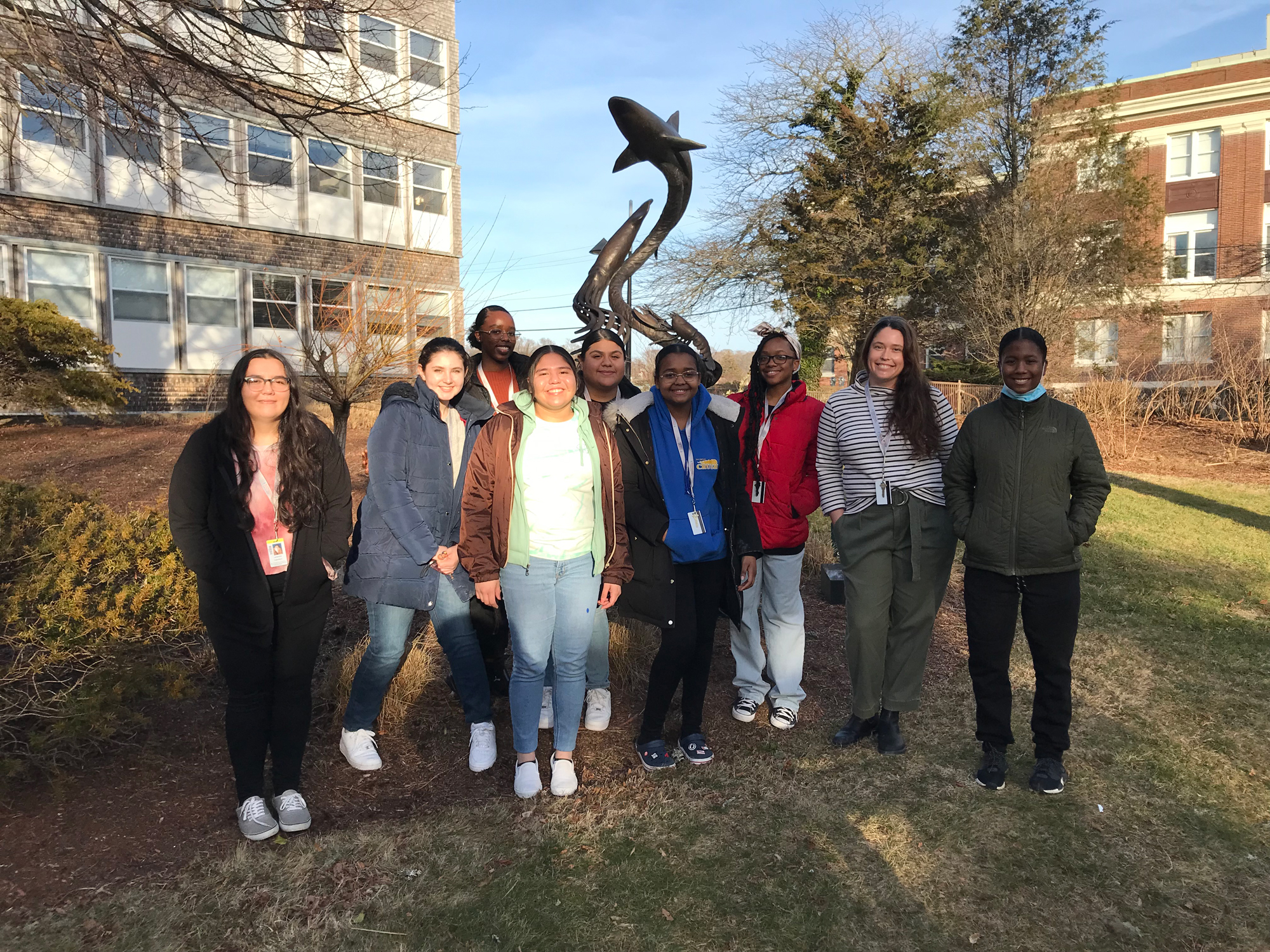 Eight students from the New Bedford Whaling Museum Apprenticeship Program pose on the MBL Quad. Credit: Loretta Roberson
Eight students from the New Bedford Whaling Museum High School Apprenticeship Program headed to Woods Hole for the MBL's Coral Reefs in a Changing World high school science discovery course.
"The eight students, who are all participating in the award winning New Bedford Whale Museum Apprenticeship program, spent the week shifting their attention from whales to other elements of ocean life. What a great learning experience and partnership!" said Linda Hyman, MBL's Director of Education.
The Coral Reefs in a Changing World course, taught by MBL Associate Scientist Loretta Roberson, explores coral reef ecosystems—from cell to reef. Students learn about the symbiotic relationship between coral and dinoflagellates, as well as life on a Woods Hole "coral reef," through hands-on experiences with micro and macroscopic imaging techniques. Key principles of the biology and ecology of corals are covered. By course end, students can describe key Cnidarian characteristics, identify key threats to coral reef systems, and utilize different tools—from imaging to mapping—used in coral research.
As part of their time in the course, and as a way to demonstrate how much they learned about using the microscopes, the students participated in a photo competition. The two categories—Imaging and Art Installation—produced some truly spectacular results. Below are the First and Second place winners for each category.
IMAGING FIRST PLACE: Northern Star Coral (Astangia Poculata) on a @ZEISS_micro Stemi 508 at 1.25x magnification. Credit: Lailandra Caballero
IMAGING HONORABLE MENTION: Hermit Crab on a ZEISS Stemi 508 at 0.63x magnification. Credit: Juliana Melara-Recinos
Art Installation Competition
ART INSTALLATION - TIED FOR FIRST PLACE: An unidentified species of crab at 1.6 Magnification on a ZEISS Stemi 508. Credit: Karen Andrade
ART INSTALLATION: HONORABLE MENTION - Aiptasia Pallida at 0.63X magnification on a ZEISS Stemi 508. Credit: Julia Duran
ART INSTALLATION: TIED FOR FIRST - Sea Lettuce (Ulva lactuca) at 0.63x Magnification on a ZEISS Stemi 508. Credit: Lailandra Caballero