Chan-Zuckerberg Renews Imaging Scientist Grant to Abhishek Kumar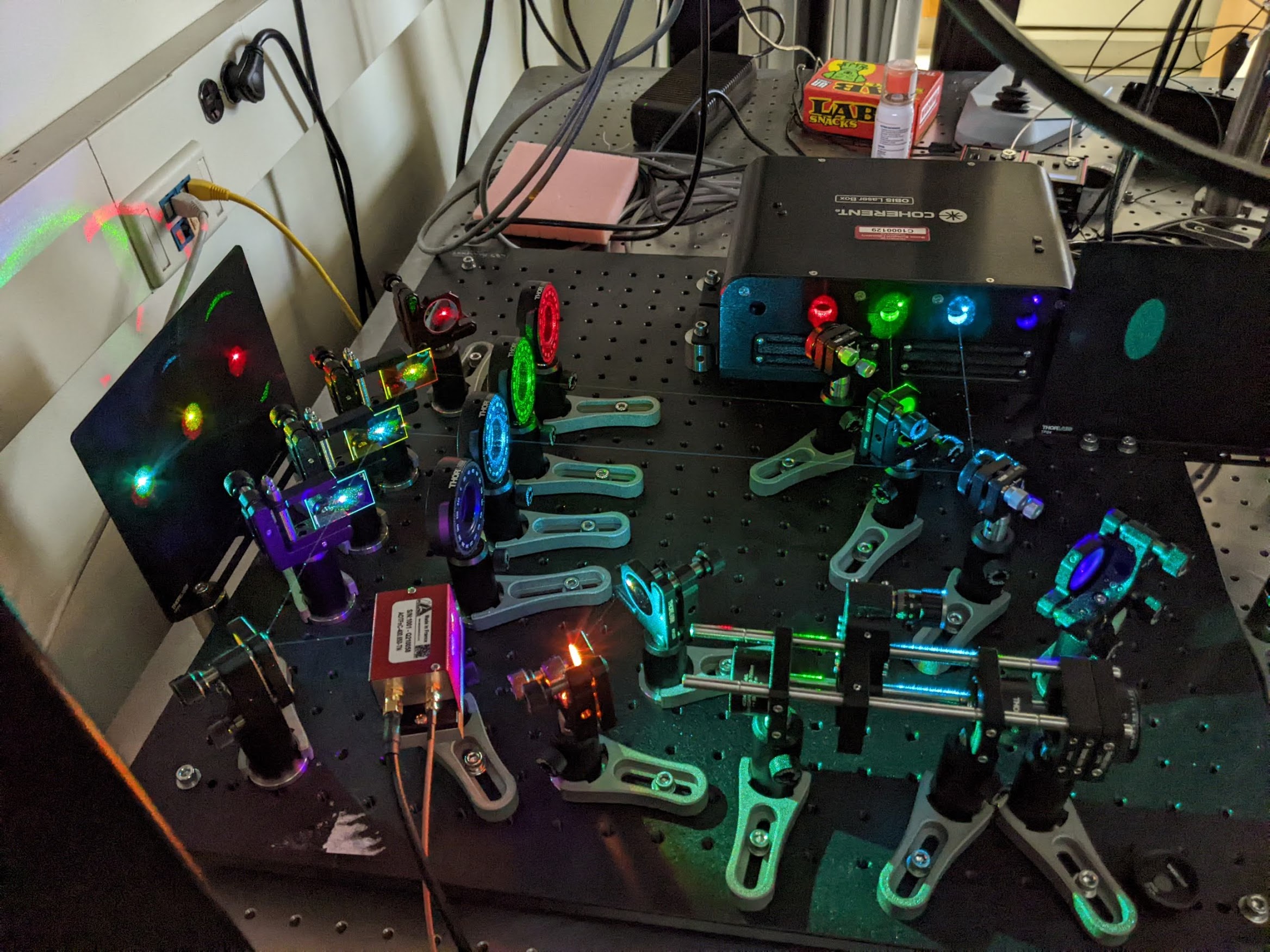 This home-built laser sled is an illumination source for the line-scanning fluorescence microscope developed in the Kumar lab. Matthew Parent built the laser sled. Credit: Emily Greenhalgh
Microscopy innovator Abhishek Kumar has received a renewal grant from the Chan-Zuckerberg Initiative (CZI) to continue leading MBL's Imaging Initiative as a resident investigator/CZI Imaging Scientist.
The MBL Imaging Initiative's mission is to invent and introduce new imaging technologies that will propel discovery in biology and biomedicine. Its hub is the MBL Imaging Innovation Center, located in the Lillie building.
As a focal point between biologists, physicists, instrument developers, computer scientists, and information technology/bioinformatics staff at MBL, the Center encourages synergistic exploration and breakthroughs in microscopy and image analysis capabilities.
The MBL Imaging Initiative has three components:
Develop leading-edge microscopes. Kumar works with resident and visiting biologists, instrument developers, and commercial partners to identify gaps in imaging technologies between what is needed and what is available, and to create new tools and algorithms that allow scientists to push the boundaries of biological imaging. To date, the Kumar lab has developed and implemented three new microscopes that are in use both at MBL and elsewhere.
Distribute new imaging technologies. The MBL Imaging Innovation Center hosts and trains scientists from diverse backgrounds to test microscopes under development and use them for pressing research questions. The center also supports faculty and students in many of the MBL's courses, including the Advanced Research Training Courses, University of Chicago undergraduate courses at MBL, High School Discovery Courses, and diversity workshops. Last year, the center presented the nation's first Light Sheet Fluorescence Microscopy Conference, which will be offered again in May 2022.
Offer expert, customized help. Many biological questions require customized tailoring of imaging systems to meet specific needs (such as large or thick biological samples). Kumar and his team work closely with biologists at MBL to provide the technical expertise they need to create an imaging system that meets their requirements.
The MBL's collaborative environment facilitates knowledge distribution across a large imaging community, given the hundreds of investigators who come to campus each year as students, post-docs, faculty, or researchers.