Deep-Sea Research from MBL Ecosystems Center is Featured in New Book for Students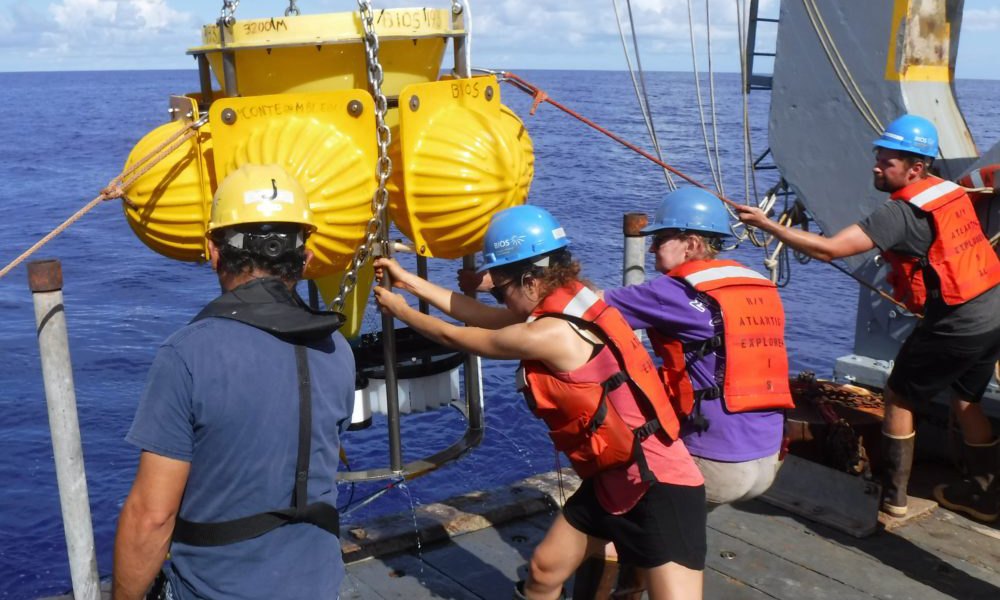 Rut Pedrosa Pàmies (center left) and Maureen Conte (center right) with crew of the R/V Atlantic Explorer recover a deep-ocean sediment trap on the OFP mooring in the Sargasso Sea, off of Bermuda. Credit: J.C. Weber
The Oceanic Flux Program (OFP), led by MBL Fellow Maureen Conte, is highlighted in a new book on ocean science for students (grades 6-12) and young adults.
"Into the Deep: Science, Technology and the Quest to Save the Ocean" follows Conte and her MBL research team members, Rut Pedrosa Pàmies and J.C. Weber, into the Sargasso Sea as they sample and measure tiny particles sinking into the deep ocean known as "marine snow" – bits of plankton, fish waste, sand, and other particulates.
In the chapter devoted to the OFP, "Waste Not, Want Not," author Christy Peterson delves into the importance of understanding deep-sea particle flux, and showcases the MBL Ecosystems Center team hard at work collecting their data.
"Sinking organic debris, and what is left behind by vertical migrating zooplankton, provides the food that fuels most life below the sunlit surface of the ocean," Peterson notes.
The Oceanic Flux Program, funded by the National Science Foundation, is the longest running time series of its kind. As such, it provides valuable insight into patterns in the deep sea on a decadal scale, in a world of climate change due to global warming.
"Evaluation of each sample over more than 40 years has shown the availability of food in the deep ocean is related to the seasonal cycle of phytoplankton blooms at the surface, as well as to long-term changes in surface ocean conditions and climate patterns," Peterson writes.
The chapter also features background profiles of Conte, Pedrosa Pàmies, and Weber – should any young readers aspire to their line of work!
Conte is also on the faculty of the Bermuda Institute of Ocean Science.