Exploring the Exploding Field of Light-Sheet Microscopy at MBL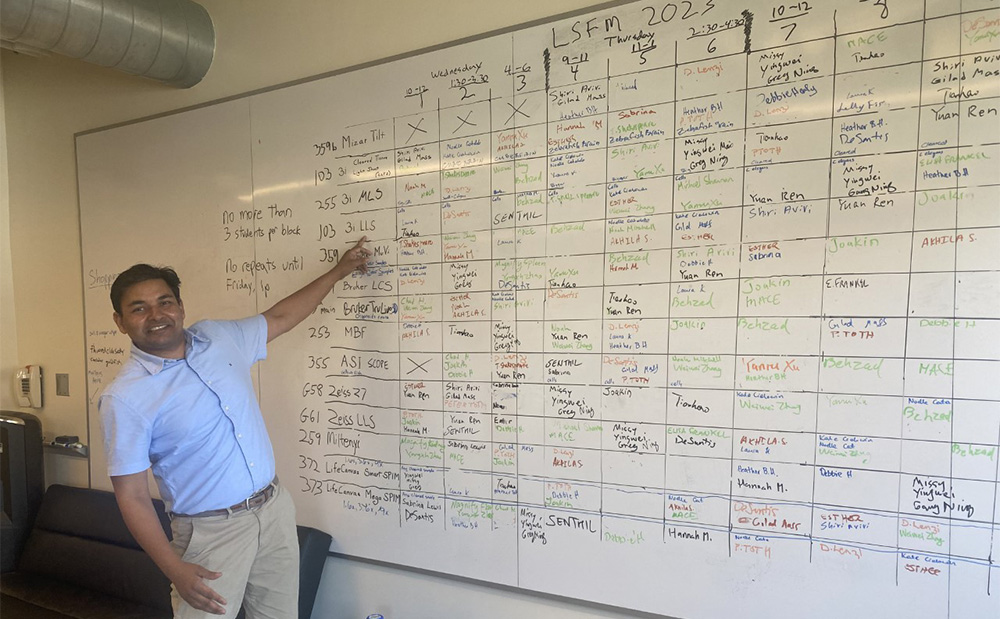 MBL-CZI Imaging Scientist Abhishek Kumar shows the microscope rotation grid for the 2023 Light-Sheet Fluorescence Microscopy conference and workshop at MBL. Attendees had a chance to use 14 different commercial light-sheet systems. Credit: Diana Kenney
The underlying concept goes back more than a century, but recent strides in light-sheet microscopy have made it an exceptionally useful tool for biologists investigating living processes, such as embryonic development.
This year, MBL convened its second annual Light Sheet Fluorescence Microscopy (LSFM) conference and workshop to introduce researchers and students to the latest innovations and demonstrate uses of the technology.
The event, held in May, gave 30 attendees a hands-on chance to try out 14 different commercial light-sheet systems. Attendees explored the capabilities and limitations of these systems and learned how to make the best use of them. More than 20 different types of light-sheet microscope systems are currently commercially available, as well as 50 or more "home built" systems designed to meet a given lab's specific requirements, which alludes to the technology's rapid growth.
"In the last ten or 12 years, this field has really exploded," said Abhishek Kumar, a Chan-Zuckerberg Initiative imaging scientist at MBL and co-organizer of the event along with  Gary Laevsky, an imaging scientist from Princeton University.
This annual light-sheet workshop supports MBL's strategic Imaging Innovation Initiative to develop and facilitate the use of imaging tools for biological research.
"Imaging is an important technological pillar of biomedical science, and we are committed to making the latest technologies accessible and equitable," Kumar said.
From left, Heather Brown-Harding of Harvard University, Chris English of Bruker Imaging Co., and Teresa Shakespeare of Savannah State University at the 2023 LSFM conference at MBL. Credit: Diana Kenney
A Better Workhorse
Light-sheet microscopy is a viable alternative to confocal microscopy, but it has two great advantages. In traditional confocal microscopy, a tightly focused laser beam scans across a biological sample, stimulating the sample's molecules to fluoresce at different identifiable wavelengths. This provides a map of the different proteins and other compounds in the sample.
"Confocal microscopy is very popular. You go into any biology lab, you'll find this technique," Kumar said.
But that intense laser beam can damage sensitive samples, and the scanning technique, which illuminates just one point at a time, is slow. Instead, the light-sheet method spreads out the laser light into a plane that can image an entire 2D layer of the sample at a time, making the process much faster. And because this sheet of light is much less intense, it doesn't damage delicate samples. As a result, the light-sheet microscopy method has become widespread and is routinely used in biological labs.
"In all areas of biology, from live cellular imaging all the way up to corals, people are using light-sheet everywhere," Kumar said. Its advantages over other methods are "speed and gentleness." For example, to produce a 3D image of a large sample using the conventional confocal method might take two days, but with a light-sheet system, just tens of minutes, Kumar said.
From left, Noah Mitchell of University of California-Santa Barbara, Michael Shannon of Columbia University, Emily Mace of Columbia University, and Hella Broughton of 3I at the 2023 LSFM conference. Credit: Diana Kenney.
Test-Driving an Abundance of Systems  
Because there are so many variations of the technology and rapid advances in the field, the conference offered researchers a chance to evaluate the many options available and find those most appropriate for their own specific research.
"One system doesn't work for all kinds of biological samples," Kumar said.
Light-sheet microscopy has enabled scientists to continuously observe developing embryos in marine organisms over extended periods, without harming them. It is also used to study organs that are normally opaque, but can be chemically altered to become transparent, ranging from mouse brains to frog embryos.
Reto Fiolka, a microscope developer at the University of Texas-Southwestern and a speaker at the conference, said this technology has been a key tool for his research.
"In the realm of live-cell imaging, we are trying to image cancer cells in 3D microenvironments and quantify their shapes and signaling. For that we need fast, 3D microscopy techniques that are gentle to the cells and also possess subcellular 3D resolution," Fiolka said. Those requirements can be met by new light-sheet fluorescence microscopy methods developed by his labs and many others, he said.
Noelle Cataldo, a graduate student at University of Wisconsin-Madison who attended the conference, said, "As someone just beginning their light-sheet journey, I learned so much valuable information … No other microscopy modality is capable of the resolution and penetration into brain tissue that is needed to answer our specific scientific questions."
 "I learned the most from one-on-one conversations with experts regarding issues that I have been having with my own projects back in the lab," Cataldo added. "Not only did I receive suggestions on how I could be imaging my mouse brains, but I also received suggestions on stitching, processing, and analyzing" the resulting data. Overall, she said, "The conference was highly relevant to my work, and allowed me to gain knowledge on light-sheet fluorescence microscopy, which is a new skill in my research lab."
From left, Yuan Ren of Yale University and light-sheet microscopy consultant Olaf Selchow with MBL's light-sheet system, funded by Howard Hughes Medical Institute, at the 2023 LSFM conference at MBL. Credit: Diana Kenney.
Fiolka concluded that "LSFM is a very dynamic discipline of light microscopy, both in technology, applications, and computational post-processing. LSFM has found a strong foothold in the life sciences, and the emergence of more and more commercial options will likely accelerate its widespread application."
Financial support for the LSFM conference and workshop was generously provided by the commercial vendors, BioImaging of North America, Arnold and Mabel Beckman Foundation, and Chan-Zuckerberg Initiative Imaging Scientists Program.