Interactive Climate Tour Opens in Woods Hole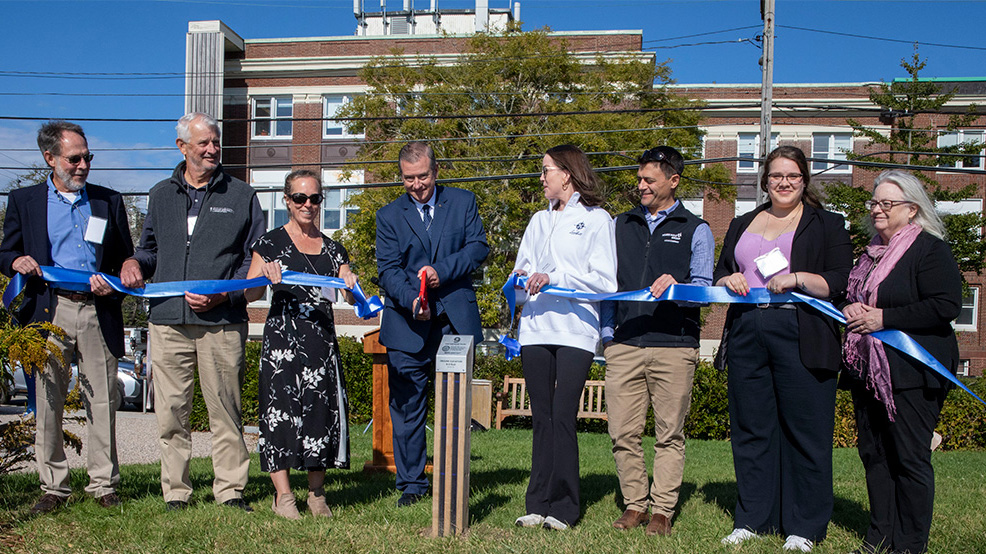 Falmouth Town Manager Mike Renshaw, center, leads the ribbon-cutting ceremony in MBL's Waterfront Park for the ResilientWoodsHole Climate Walking Trail. Credit: Jayne Doucette © Woods Hole Oceanographic Institution
ResilientWoodsHole aims to educate the public on the impact of rising sea levels 
Woods Hole, Mass. – A diverse group of community members, local businesses, government officials, and science institutions came together on Oct. 24 to officially launch a self-guided climate walking trail in the village of Woods Hole. The ResilientWoodsHole (RWH) Climate Walking Trail opened to the public with a ribbon cutting ceremony at the Woods Hole Waterfront Park.
The 2.2 mile, 12-stop walking trail highlights vulnerable and flood prone locations in Woods Hole and illustrates the resilience planning and adaptation strategies in place to help protect the coastal village from climate-related impacts. A new, downloadable app guides participants along the route, highlighting the ways the village plans to keep up with a changing climate. The app also offers a brief history of Woods Hole, climate change projections, adaptation solution charts, and current and historic images.
The RWH Climate Walking Trail can be experienced in its entirety, and takes approximately 60 – 75 minutes to complete, but walkers may start the trail at any point and complete all or part of it. It can also be accessed online further broadening the exposure of this community's challenges and commitment to climate resiliency.
Warming ocean temperatures and rising sea-levels are putting Woods Hole and its Blue Economy at risk. According to a study by the Woods Hole Group, it's estimated that as soon as 2070, one-third of the roads in the community could be inundated during storms, with $284 million in property at risk. The village has experienced a sea level rise of about 10 inches from 1932-2020, and this trend is predicted to accelerate, including an increase in so-called sunny day flooding events.
The new climate walking tour offers an interactive way to learn about the impacts of climate change, and a community-wide process to build resiliency.
According to Leslie-Ann McGee, Project Director for ResilientWoodsHole, "We are thrilled to be able to officially open the ResilientWoodsHole Climate Walking Trail today as a cornerstone in our outreach efforts. The interactive app and walking trail will help to further engage the local community, and visitors to our beautiful seaside village, and reinforce our collective goal of securing a climate resilient future."
"We are grateful to the Massachusetts Coastal Resilience Grant program for supporting the vision of the ResilientWoodsHole Climate Walking Trail, and our larger vision of the entire RWH project."
"The mission of the Marine Biological Laboratory (MBL) depends on access to the sea," said Paul Speer, MBL's Chief Operating Officer and a member of the RWH Steering Committee. "But we recognize that climate resiliency solutions for Woods Hole are only possible through collaboration between state, town, and local village partners. With the launch of the RWH Climate Walking Trail app, we are pleased to extend our outreach on this resiliency initiative to all who may visit Woods Hole."
"We are grateful to Sen. Susan Moran and Rep. Dylan Fernandes for securing funding to help MBL restore the seawall in Woods Hole's Waterfront Park, and to the state's Office of Coastal Zone Management for funding a feasibility study of dune restoration at Stoney Beach," Speer said. "All of these actions are building a more climate-resilient future for the village."
"Our agency is at the forefront of monitoring and tracking the effects of climate change in our nation's ocean waters, on the animals that live there, and the communities that depend on them," said Nicole Cabana, Northeast Fisheries Science Center Deputy Director. "We are delighted to be a part of the walking trail project, which is not only fun to explore, but also shows why our everyday work matters and connects us to the larger Woods Hole scientific community and the towns in which we live."
RWH is unique in structure. Unlike large city resiliency efforts, it is a private-public collaboration between science institutions (including Woods Hole Oceanographic Institution, Marine Biological Laboratory, and NOAA's Northeast Fisheries), local businesses, residents, and other stakeholders. Backed by a best-in-class analytical partner, Woods Hole Group, and a representative Steering Committee, the RWH Initiative has gained momentum through grassroots community participation. Starting in 2019, RWH has worked together on a plan that includes nature-based solutions, protection, and maintenance of existing infrastructure, and lateral and/or vertical relocation to address rising sea levels. Collectively, the group has the expertise to address these issues because Woods Hole is home to researchers who study sea level rise and coastal resiliency, among other climate change issues. The group hopes to lead by example, from science to solutions, to show how private institutions and community members can lead the charge to secure their collective futures.
The RWH Climate Walking Trail app may be downloaded from the Apple Store or Google Play. For additional information about Resilient Woods Hole, visit: www.resilientwoodshole.org.