Jianwu (Jim) Tang (1970–2023) | Nature Ecology and Evolution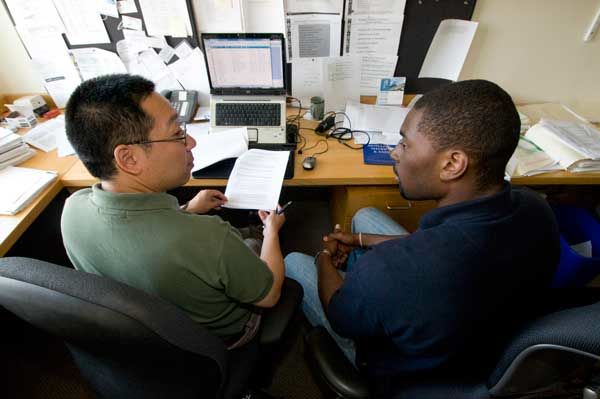 The late Jianwu (Jim) Tang, left, mentoring a student from the Woods Hole Partnership Education Program. Tang mentored a substantial number of young scientists during his career, many from underrepresented groups.
Jianwu (Jim) Tang was a senior scientist in the MBL Ecosystems Center. The co-author of this retrospective, Xi Yang, was advised by Tang while earning his PhD in the Brown-MBL Graduate Program in Biological and Environmental Science.
Ecosystem ecologist who made fundamental contributions to carbon cycle science and advocated for the next generation of scientists
Jianwu (Jim) Tang, who passed away at the age of 52 on 4 January 2023 in Shanghai, China, was an inspirational scientist who made tremendous contributions to our understanding of ecosystem ecology, the terrestrial carbon cycle and vegetation remote-sensing. Moreover, Jim always advocated for early-career ecologists, and mentored and supported many undergraduate students from underrepresented groups via several programmes. He also had a key role in international and national ecological networks, including the National Ecological Observatory Network (NEON).
Born to a family of factory workers in the city of Wenzhou in southeastern China, Jim found a new world in books when he was a kid — the high-school library was his second home. In an interview in 2008, he recounted how, in his endless reading, he became fascinated by nature and asserted that "the 21st century will be the century of biology". Deciding to pursue a career in ecology, he received his bachelor's (1988–1992) and master's (1992–1996) degrees from Peking University, where he worked as an assistant professor and lecturer for four years before he started his PhD studies at the University of California, Berkeley. Read rest of the obituary here.
Source: Jianwu (Jim) Tang (1970–2023) | Nature Ecology & Evolution