Massachusetts Life Sciences Center Awards $4.3 Million to MBL to Support Imaging Innovation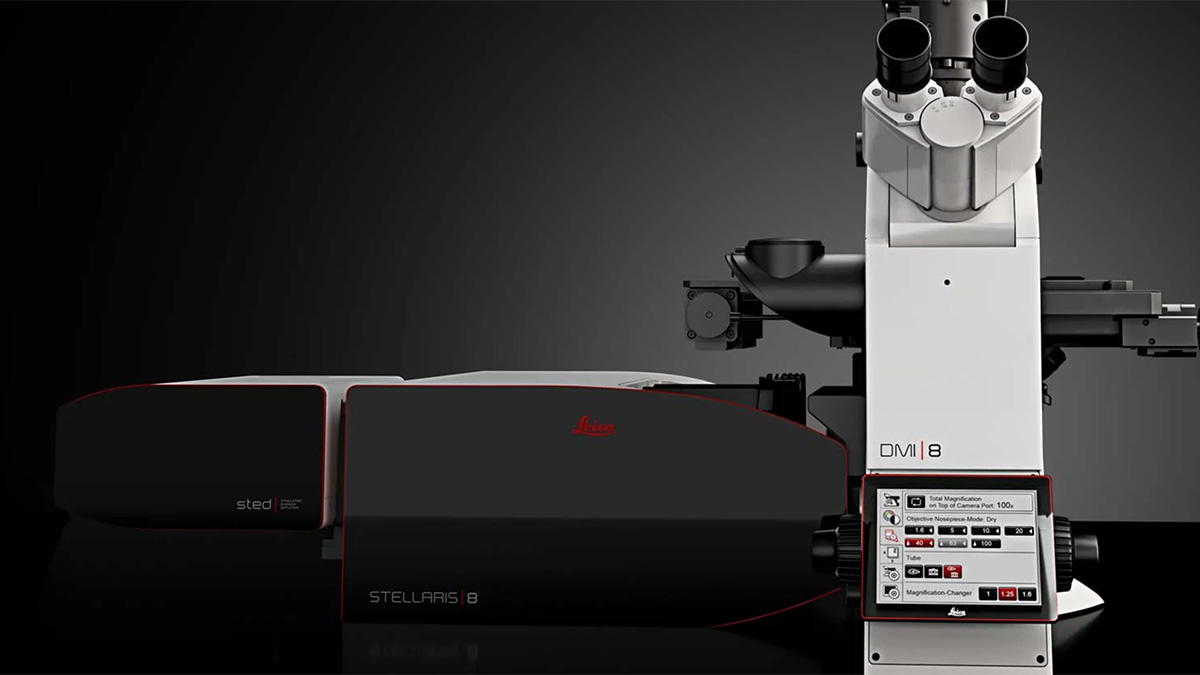 A confocal and super-resolution microscope (Leica Stellaris 8 STED), one of the imaging systems funded by the MLSC grant to MBL. Credit: Leica
Funding will expand advanced microscope technologies to Massachusetts life sciences researchers
WOODS HOLE, Mass.—The Massachusetts Life Sciences Center (MLSC) has awarded $4.3 million to the Marine Biological Laboratory (MBL) to expand its imaging capabilities to serve the Massachusetts life sciences community.
The grant, which will be used to procure two state-of-the art microscopes capable of increased resolution and advanced technology, such as milling for the reconstruction of samples in 3D, was announced at a press conference on October 18 at the grand opening of a new incubator, the Massachusetts Biomedical Initiatives (MBI).
MBL Director of Research Anne Sylvester and Louis Kerr, MBL Director of Imaging Services, attended the opening and MLSC award announcement along with officials from the MLSC and local government.
The biomedical sciences often rely on advances in imaging technologies to translate basic research into practical medical applications. Traditional 2D imaging limits the capability to study a number of physiological conditions like neurodegenerative diseases, cancer, regeneration, and wound healing. The two advanced instruments supported by the MLSC grant—a plasma focused ion beam-scanning electron microscope (Thermo Scientific PFIB-SEM Helios Hydra) and a confocal and super-resolution microscope (Leica Stellaris 8 STED)—will allow 2D and 3D reconstruction from both electron and light microscopy for comparative and high-resolution imaging.
3D reconstruction of mouse brain tissue captured with one of the microscopy systems funded by the MLSC grant, a plasma-focused ion beam-scanning electron microscope. Credit: Thermo Scientific
"The MBL is already a vital resource for scientists who need dedicated microscopy facilities to take the next steps in their research. We are deeply grateful for the support from Massachusetts Life Sciences Center, which will scale-up the MBL's capabilities of imaging to help fill a gap in access to 3D biological imaging in Massachusetts," said MBL Director Nipam Patel. "This investment will accelerate innovation in biological imaging that can impact basic, translational, and, ultimately, clinical research."
MBL's mission is founded on shared knowledge and resources. The new microscopes will be housed in the MBL's core imaging facility, which is accessible to MBL investigators and courses along with visiting researchers from Massachusetts and beyond. MBL has invested in imaging engineers and specialists who can design, build, and innovate instruments for biology and they are eager to integrate these new microscopes into the institution's imaging pipeline.
Currently, there are only nine Helios Hydra systems in the U.S. and only one in Massachusetts, which is not available for public use. The microscope housed at the MBL will be the first of its kind used for biological sciences in New England. As new additions to the MBL's Central Microscopy Facility, the PFIB-SEM Helios Hydra along with the Stellaris 8 STED, will serve as a unique imaging resource for researchers and industry partners across the state.
—###—
The Marine Biological Laboratory (MBL) is dedicated to scientific discovery – exploring fundamental biology, understanding biodiversity and the environment, and informing the human condition through research and education. Founded in Woods Hole, Massachusetts in 1888, the MBL is a private, nonprofit institution and an affiliate of the University of Chicago.