MBL Resident and Whitman Scientists Receive Award to Develop New Genomic Tools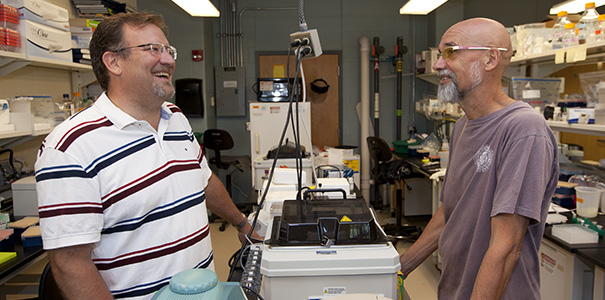 One of the biggest gaps in biological knowledge today is the ability to predict an organism's physical characteristics – its phenotype – from what is known about its genetics. Understanding this relationship can lead to numerous benefits, from new disease treatments to better crop yields.
To this end, the National Science Foundation has issued $14 million in grants for the development of new research tools to unravel the dynamics between gene function and phenotype in a variety of organisms. Among the awardees are collaborators Gary Gorbsky of Oklahoma Medical Research Foundation and Marko Horb, Associate Scientist and Director of the National Xenopus Resource at the Marine Biological Laboratory (MBL).
Gorbsky and Horb, who began collaborating in 2015 when Gorbsky was an MBL Whitman Center investigator, aim to develop novel genomic tools for studying frogs (Xenopus) and other amphibians, which are important model systems for understanding vertebrate physiology and development.
"This project embodies the ability of the MBL to create new collaborations," said David Mark Welch, Interim Director of the MBL Division of Research. "The work Marko and Gary will be doing is central to the MBL's ongoing development of new model systems for environmental and biomedical research."
Despite the long history of using amphibians to model disease states and other aspects of vertebrate physiology, research is constrained by difficulties in generating embryos with precisely defined mutations in each copy of a given gene. (Many amphibians have four sets of chromosomes in each cell; humans have two.) Gorbsky and Horb plan to generate novel cell lines from Xenopus tropicalis, Xenopus laevis and the axolotl Ambystoma mexicanum. Using precision genome editing technologies, such as CRISPR-Cas9, Gorbsky and Horb plan to generate mutant cell lines that have specific gene alterations. The nuclei from these engineered cells can then be transferred to amphibian eggs that have had their nuclei inactivated; in some instances, this 'nuclear transfer' procedure produces dividing embryos with the desired gene alterations. Eventually, the scientists hope to generalize their approach to generating mutants in a wide variety of vertebrate and invertebrate species, especially in emerging model systems.
This project is intimately tied to the mission of the National Xenopus Resource at MBL, which is to assist scientists in making use of amphibian models, to develop new research technologies, and to disseminate them to the scientific community.
Feature photo: Marko Horb of the Marine Biological Laboratory, left, and Gary Gorbsky of Oklahoma Medical Research Foundation began their collaboration when Gorbsky came to the MBL as a Whitman Center scientist in 2015. Credit: Daniel Cojanu
—###—
The Marine Biological Laboratory (MBL) is dedicated to scientific discovery – exploring fundamental biology, understanding marine biodiversity and the environment, and informing the human condition through research and education. Founded in Woods Hole, Massachusetts in 1888, the MBL is a private, nonprofit institution and an affiliate of the University of Chicago.