Quintay Practical Course Brings MBL Experience to Latin America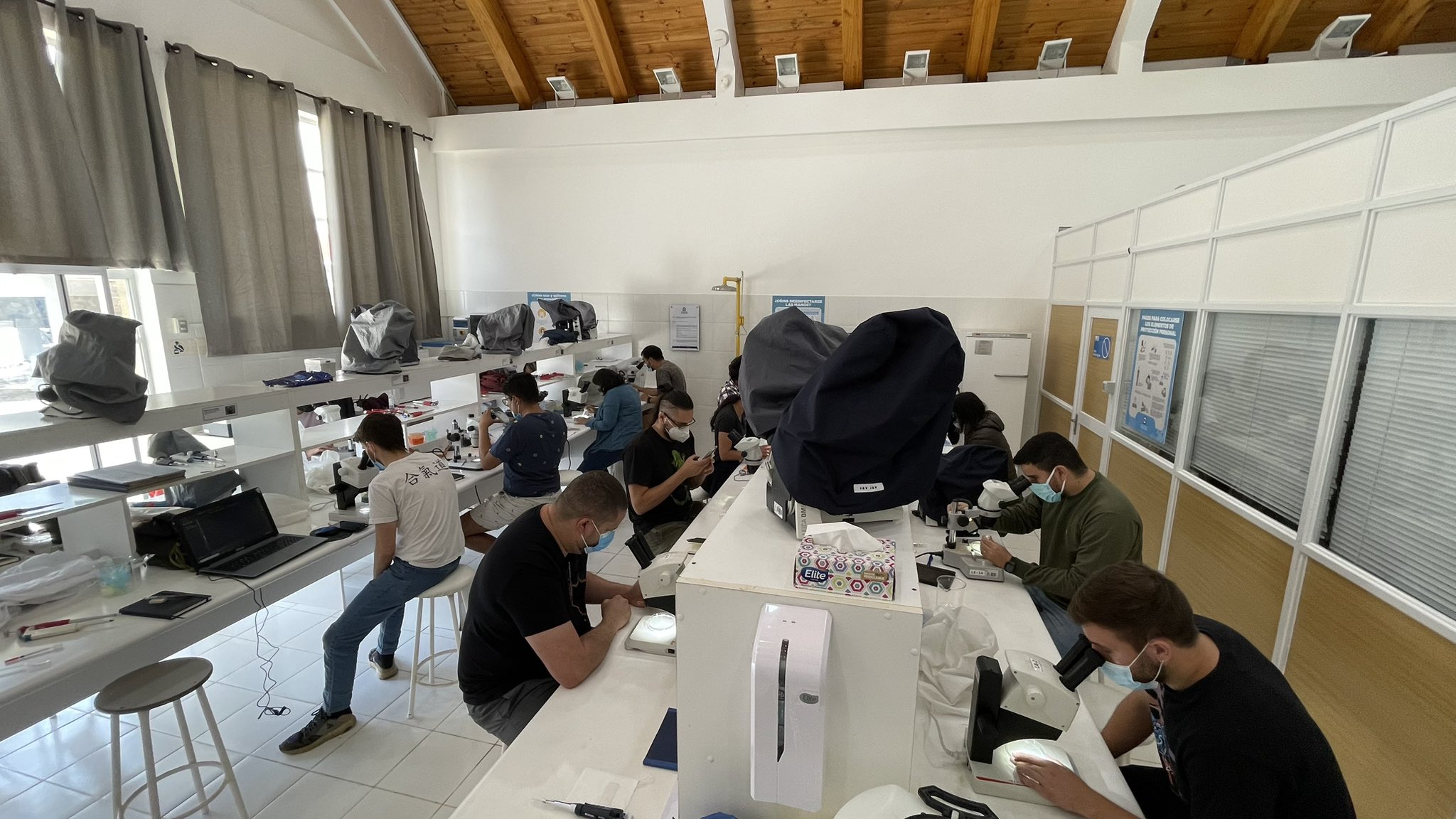 Students in the the lab during the flatworm (Planaria) module of the 2023 EMBO Practical Course in Developmental Biology. Credit: Alejandro Sánchez Alvarado
Every January, far away from the village of Woods Hole and the Marine Biological Laboratory campus, a group of lucky students still get the full MBL experience. 
The Practical Course in Developmental Biology—held annually in Quintay, Chile—is a compressed version of the popular MBL Embryology Advanced Research Training Course. Just like the course it's based off of, the 13-day intensive provides students access to state-of-the-art training in embryology and developmental biology. 
"The Quintay Course brings the successful model of the MBL Advanced Research Training Courses to students halfway around the world. We're instilling a love of science and providing an introduction to the MBL," said MBL Director Nipam Patel. Patel has taught in the Quintay course for a number of years and was a course faculty for the MBL's Embryology course for nearly 20. 
MBL Director Nipam Patel looks at Drosophila images with two students from the 2023 Developmental Biology Practical Course in Quintay, Chile. Credit: Roberto Mayor
A student works in the lab during the flatworm (Planaria) module. Credit: A. Sanchez Alvarado
So how did an MBL course show up more than 5,000 miles from Woods Hole? 
Course director Roberto Mayor was so inspired by his time in the 1988 MBL Embryology course that he decided to try to replicate the experience for promising students in Latin America. Scientific research has improved in Latin America in recent years and developmental biology is a rapidly growing field, according to Mayor. He wanted to be a part of that. 
"There is growing demand in learning new scientific approaches and techniques in Latin America, and even more importantly, there is an urgent need to facilitate interactions between young Latin American students and world leaders in developmental biology," said Mayor.
According to faculty member Alejandro Sánchez Alvarado, Quintay is more than a course. "It is a window to a world of science that in many cases has been but a whisper to many students in Latin America." 
The course has proved popular since it started in 1999 (originally in Santiago, Chile, before it moved permanently to Quintay in 2004). Faculty regularly receive hundreds of applications for the 20 student slots. The students who attend are highly motivated, and frequently describe the course as a "life-changing experience," said Mayor. 
More than 90 percent of the students that took the course in its early years are now principal investigators in developmental biology in Latin America, the United States and in Europe.
"Personally, Quintay always serves as a reminder that while not everybody can become a scientist, great scientists can come from anywhere," said Alvarado.
Learn more about the Developmental Biology Practical