Studying a Gene Lurking in the Regeneration Pathway of Axolotls: A Summer of Research at the MBL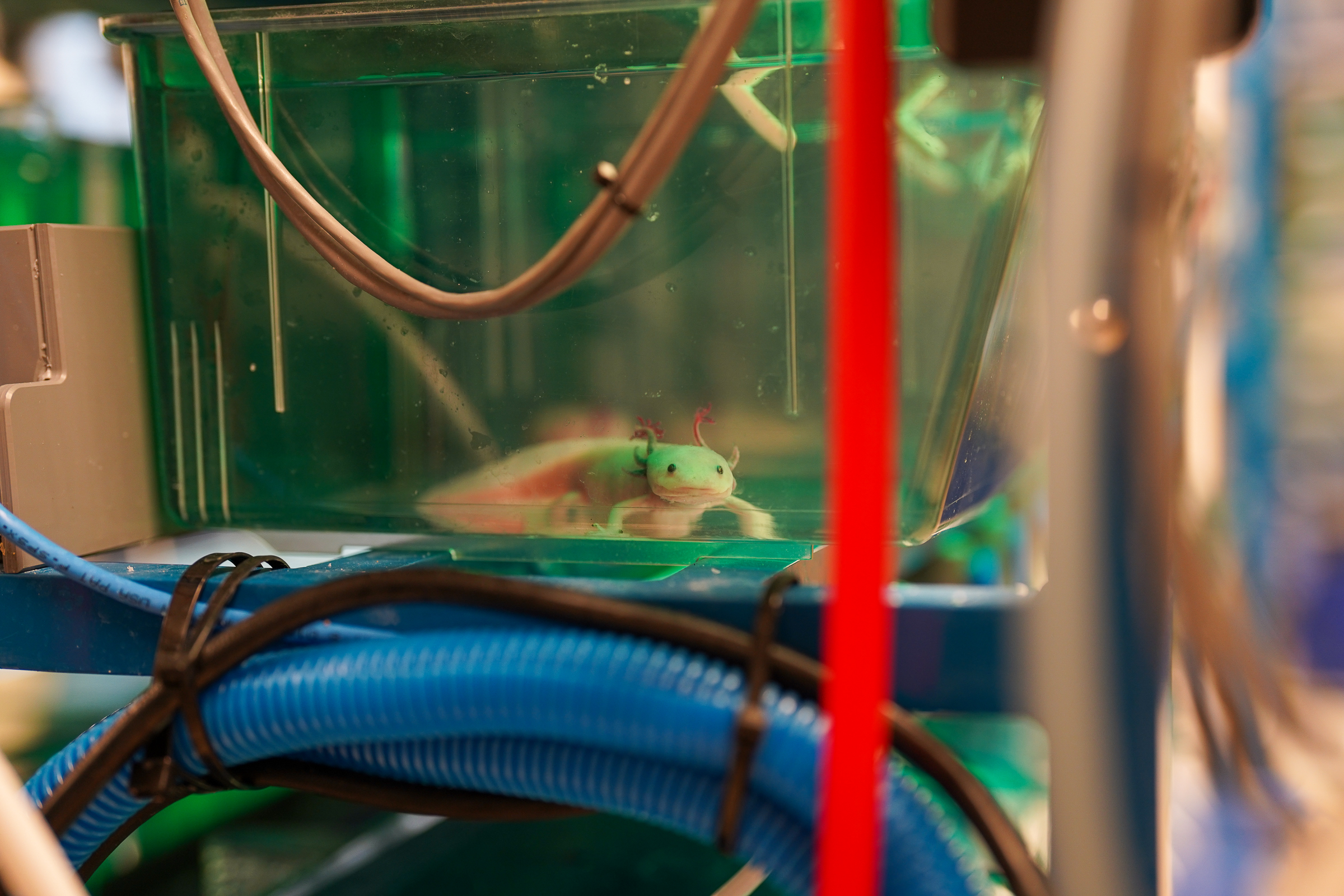 An axolotl in a tank in the Echeverri Lab at the MBL. Credit: Christian Selden
Christian Selden is a rising junior majoring in neuroscience at Reed College and participated in the 2022 Biological Discovery in Woods Hole Research Experience for Undergraduates (REU) program at MBL.
Every summer, the National Science Foundation funds research opportunities for undergraduate students to gain hands-on lab experience in their Research Experiences for Undergraduates (REU) program. The current REU program at the MBL is celebrating its 11th year anniversary and is co-directed by Dr. Allen Mensinger and Dr. Veronica Acosta.
In the Echeverri lab, we study the amazing regeneration ability of axolotls (Ambystoma mexicanum), a salamander native to Mexico. Like very young children can (anecdotally) regenerate their fingers, axolotls can regenerate numerous body parts including the spinal cord, brain, heart, and limbs.
As an undergraduate researcher in the Echeverri lab, my goal is to understand how an axolotl regenerates to then apply this knowledge to conditions that affect the human spinal cord.
I find it fascinating to observe an axolotl repair its spinal cord under the microscope. In a complex yet beautiful way, new neuron cells of the brain and spinal cord regenerate across a highway of glial cells that help the neurons form new pathways. This process of repairing the spinal cord after an injury is a harmonious symphony starring genes as the instruments and glial cells—a cell type that helps neurons survive—as the conductor. 
One of these gene instruments is LRRK2, which stands for Leucine Rich Repeat Kinase 2, and it is the subject of my research this summer.
Scientists have found a link between Parkinson's Disease and mutations in the LRRK2 gene, but are just starting to scratch the surface to understand how they're connected. In axolotls, we know even less about LRRK2, partly because the axolotl genome was only sequenced about four years ago. 
Credit: Christian Selden
Research in the Echeverri lab found that there's more LRRK2 in the spinal cord after injury. To better understand if and how LRRK2 is involved in regeneration, I am inhibiting the gene and observing the effects on tail regeneration after a tail amputation injury.
Additionally, I perform antibody stains on tail tissues to compare how neurons are extending their branches, called axons, from the spinal cord. This could help scientists connect the dots between axolotl spiral regeneration and human spinal cord injuries.
Though we are a long way off from axolotl-inspired treatments, like gene therapies, I find this research hopeful because it has the potential to improve the quality of life for future generations.
The MBL Undergraduate Experience
This research was unlike anything I would be able to do at my home institution—Reed College. Axolotls are on the rising list of critically endangered species, and working with them at the MBL has been a unique opportunity.
By attending weekly sessions on how to communicate science and going to lectures on everything from gut-brain neuroscience to the medical use of snail toxins, I experienced what it is like to live and breathe science within the MBL community. During one session, scientists offered advice on various careers in research. I heard graduate students talk about the importance of networking in college and professors explain how to write a cold email that will get a response. 
Being able to interact with expert scientists in their fields and peers who love research is very humbling. I got to dip my toes in science communication by doing a two-minute flash talk presentation about my research in front of my peers. I feel so lucky to have met a bunch of science-minded people who do everything from science writing, public radio, and basic research in fields I had never heard of, like the biology of the inner ear.
At the end of this REU experience, I feel like I have a toolbox of resources and a network that will help me succeed in graduate school.
Learn More about the REU Program
Learn more about the Echeverri Lab