"Take Five" with Ilana Jacobs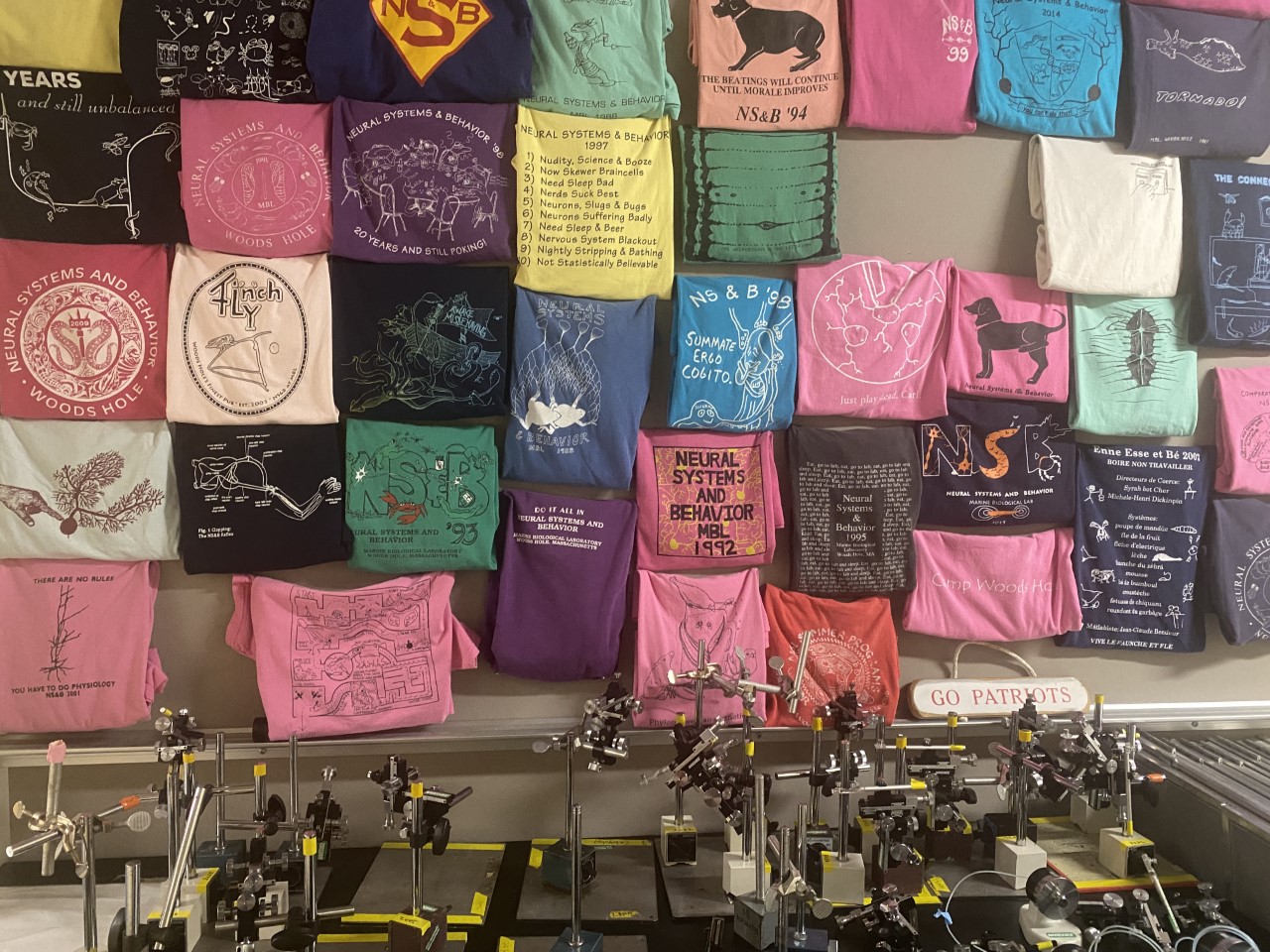 A montage of course T-shirts from past years outside the Neural Systems & Behavior lab in Loeb Laboratory. Credit: Diana Kenney
"Take Five" is an occasional feature in which we pose five questions to an MBL community member about their career, dreams, and passions. 
Where do you go to school, what do you study, and what you aspire to be? 
I'm Ilana Jacobs, and I will be a sophomore in the Undergraduate Program in Neuroscience at Boston University this fall. I am hoping to get a PhD and one day have my own lab.
 
How did you become interested in the Neural Systems &  Behavior (NS&B) course?
I've been connected to the MBL for my entire life. My grandfather, Ed Leadbetter, was heavily involved in Microbial Diversity and was one of the first co-instructors and course directors. My uncle, Jared Leadbetter, was the course director for 5 years as well, so he would bring me with him to the lab when I was younger. I also was a summer intern with Kristin Gribble in the Bay Paul Center throughout high school.
I always knew I wanted to be involved with an MBL course after I had experienced Microbial Diversity with my grandfather and uncle, and when I learned about NS&B I was really excited because the modules and topics aligned well with my interests as a young scientist. One of the modules that I was most interested in was the electric fish module, because I didn't know anything about this model organism and I was curious to learn!
 
What is your role as course assistant?
As a course assistant, I make sure that all of the students and faculty have what they need to succeed. It's lots of solution making, dishwashing, cleanup, snack runs, and package receiving. We also coordinate events for our course, like receptions after our Wednesday evening lectures and other course events. Also, we spend time with the students and faculty, getting to know what their projects are. We also care for some of the organisms used in the course. Also, every two weeks we also have to completely redesign all the students' electrophysiology rigs with new equipment specific to the model organism they will next work on. 
 
What has been your favorite part of helping with the course?
I've really loved getting to know the students and faculty. The MBL course structure is very unique in that the faculty come in for only two weeks. The faculty – who are from all over the world – teach the students about entirely new organisms and techniques for one week, then the students work on their own projects for the second week. Then they move on to a different organism with new faculty for another two weeks. Obviously, having so much to do in just two weeks is really exhausting but also character building.
It's been incredible to watch the students in our course come from being complete strangers to a family in so little time. I've also really loved being able to have lunch with our Wednesday evening lecturers. It's been fascinating to hear their insights based on their careers, and their talks and suggestions are definitely being taken to heart. 
 
How do you hope to apply what you've learned after this summer?
The grit and determination that the students have shown over the past month in the course so far is really awe inspiring, and I hope to carry that mindset with me throughout my future. I also was inspired last week when a student wanted to do a specific project but the circumstances were not the most ideal. Two other students from the course were not only willing, but excited to jump in and completely change their project to work with the other student. That was another example of this group really rolling with the punches and making the best of a situation, which is something I hope to exemplify throughout my future.