Grass Fellows Find Insecticides Impair Honeybee Navigation | Global News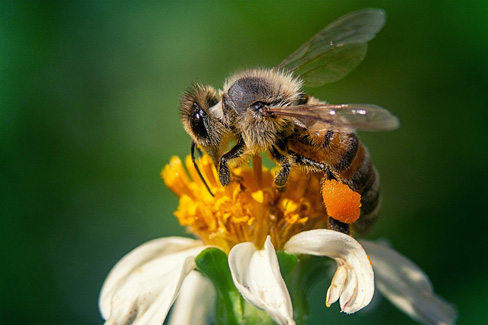 A honeybee on a chamomile flower. Image by Wirestock on Freepik
Note: Rachel Parkinson was a Grass Fellow at the MBL in 2019. She and Grass Lab colleague Caroline Fecher published their research results this month.
A former University of Saskatchewan student conducted a study that shows insecticides impair the ability of honeybees to navigate.
Dr. Rachel Parkinson began this research in 2019 at the Marine Biological Laboratory in Massachusetts.
After exposing bees to insecticides and using a bee-sized treadmill with screens showing a real life environment, they could track the bee's walking path and analyze the results.
"The significance of the research is that this study shows for the first time that the ability of bees to encode and respond to visual information is impaired by insecticides. Bees use the same type of visual information that we tested in walking bees during flight to stabilize themselves and navigate," said Parkinson. "The next step will be to test whether flying bees experience the same impairments." Read rest of the article here.
Source: Researcher discovers insecticides impair ability of honeybees to navigate | The Global News